If the poor Brits don't have it bad enough with their loopy Met Office, now the supposed bastion of careful thinking and good science, The Royal Society, goes completely off the rails. They want to spray pollution (real pollution, not carbon dioxide plant food) into the atmosphere to artificially cool the planet: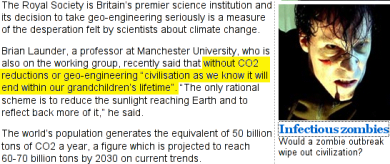 Not to mention the Times; once, I am told, a fair to decent newspaper. At least the fantasy story on the left is matched by a link to a slightly more realistic one on the right. ;-)
Thanks to Wattsupwiththat for the heads up on this heap of nonsense.
What is going on here? The climate change disaster this planet faces is a killer ice age. The fact that warming scares have alternated with cooling scares for 150 years won't change that fact. The fact that the current interglacial has lasted 10,000 years won't change it, it only makes it less likely it will start tomorrow. But for 2.5 million years we have had steadily worsening, regular ice ages, and (on a geological timescale) one is due right now.
We have had far warmer times in historical memory - the Roman period, the medieval climate optimum (note the word chosen by a less unbalanced generation for the hot times of a thousand years ago). We know for a fact that warming makes for a pleasant world. We know for a fact that more CO2 increases plant yield (and therefore feeds more people and helps more wildlife). We know for a fact that it is cold times, not warm ones, that create wild weather fluctuations. We know for a fact that more CO2 allows plants to thrive in drier conditions and endure droughts. Just how completely unbalanced do you have to be to say the nonsense (on the left) in the picture above?
Woops, just about to sign off, when I notice, on the same face, with a completely straight face, the Times telling us: Burping of the lambs blows roast off menu. Apparently lambs burp too much methane for a good little carbon footprint minimiser to feel comfortable with. They burp 37 pounds of CO2 for the same amount of meat as a cow that burps only 35 pounds. Well I don't eat meat at all, and it has nothing to do with methane fantasies, I just don't see any need to kill in order to eat (very well indeed, if I say so - the menu of delicious Indian veg food never seems to end). But they'll get me too: apparently I should be avoiding chocolate snacks.
"We are not saying that everyone should become vegetarian or give up drinking but moving towards less carbon intensive foods will reduce greenhouse gas emissions and improve health," said one idiot spokesman quoted in the article. Oh really? You reckon beef is more healthy than lamb? Or that avoiding tomatoes and eating only potatoes will make people healthier? Here's something I've noticed: whenever someone pairs up something they want you to do ("reduce greenhouse gas emissions") with something desirable, but vague and insufficiently documented ("improve health") without explaining the connection, you can be pretty sure you are being fed nonsense.
And this all comes from some "government-funded firm". Land of my ancestors, you have my deepest sympathy!